Cassandra Clare: Quick picspam photo diary
*dusts off Tumblr*

So it has been an incredibly weird, strange, up and down couple of weeks — months even. I meant to try to keep updating through the publicity for the movie and so forth but all I had time to do was reblog gifsets and Instagram a few things. Beware, for there is picspam…
"Haven't any of you ever been on a Gulfstream Jet before?"
One of the best letters I ever got was from an eleven year old boy who said that he loved City of Bones because he could relate to Jace because like Jace, he was very handsome and it was a major problem.
- Cassandra Clare
for some reason I have unfollowed cassie accidently and now i have to wait 2 weeks or whatever it is too send her a fan mail and tell her my feels :(
No big spoiler or anything.
Just that I'd like to say it was the opposite of Clockwork Prince who tear my heart apart and left me with so many emotions.
Clockwork Princess just left me.. contempt. Blissful even. It was nice. Ending it like that.
Though it has made me curious of City of Heavenly Fire…
trying-tobehappy asked you:
Hi, when you came to Sydney last year and did the autograph signing/ball there was one question you got asked from a member of the audience which went along the lines of 'I have no idea who you are and I only came tonight so I could get laid' if I recall correctly. I was wondering, what did you do with the note the question was written on? If memory serves me, you said you would keep it and put it on your fridge but I could be wrong.
-
Why, yes, here it is.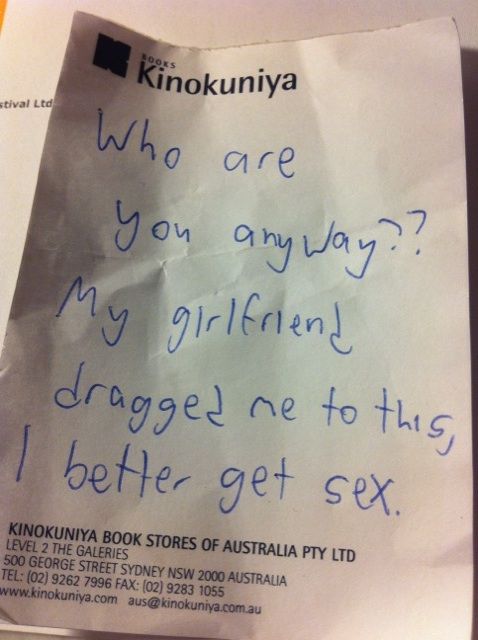 You think I don't keep these things? I SO DO.
(via cassandraclare)
Trying to think of an end to Clockwork Princess that won't make you want to rip out your own heart 
 
When my fourth book came out, which was called City of Fallen Angels, we were having our marketing meeting [at the publisher]. And they were saying they were concerned about dwindling print sales for all books. And I said, "Let's something experimental—put something in the books you can't get in ebooks. In the back of the book we'll affix a letter written by one of the characters to another character. It'll look like a letter, with a little wax seal, a thing fans will want to collect. And as an analogue object you can hold in your hand, it's something you can't pull out of a Kindle.
We tried it [at Barnes & Noble]. It was hugely successful. They had to reorder. Eventually they ran out of them… I was just at the board of directors meeting for Barnes & Noble (BKS) as a speaker. The CEO said to me, "You know, that thing you guys did for City of Fallen Angels was a brilliant piece of strategy. It was so successful for us that we've now gone and asked dozens of other authors to do the same thing. We call it City of Fallen Angels treatment."